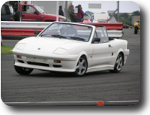 The 2+2 gives all the fun of a traditional soft-top sports car, without compromising on the creature comforts or practicality of an everyday car. The soft-top is simple to use
and achieves superb protection from the elements, all year round. For added security, or severe winter use, the optional hard top can be fitted or removed in a few minutes.
Compared to similar sports convertibles of its size, the 2+2 is incredibly spacious. As the name suggests, the rear accomodation is ample for two small children, or makes for travelling for two, with somewhere for jackets or hand luggage - in addition, the boot is huge! The 2+2 was designed as a convertible in its own right, with full attention paid to the extra bodytub rigidity required of an open-topped car. The lightness of the glass reinforced plastic used throughout enables critical areas, such as the bulkhead, to be up to 10mm thick. Strength is therefore greatly increased, as doubling the thickness of a panel leads to an 8 times increase in stiffness.

For ease of build the 2+2 is based entirely upon a MK2 Ford Fiesta. Examples of the highest specification 1600cc XR2 CVH are readily available, but more owners are now fitting the newer Zetec engine.
The components all transfer to the Quantum shell to be used in the same way as they were on the donor Ford, even down to interior, dashboard, doorlock and bonnet catch.
The first Quantum 2+2 obtained its first MOT test as a Quantum on 23 November 1992 and was sold by Quantum Sports Cars to the first private owner in June 1993. In 2022 the Quantum 2+2 model will be 30 year old.
Vital Statistics

GRP monocoque with integral steel sill members and powder coated front subframe. Shell supplied in self coloured polished gelcoat with panels fitted and aligned.

Usually 1600cc petrol (XR2). Others available, together with numerous rebored and tuned versions. Fitment of 1800i and 2000i Zetec engines common, plus 1600i CVH Turbo, ZVH Turbo and even Zetec Turbo.

Front wheel drive. 5 speed manual, usually Ford IB5, with CTX automatic available.


MacPherson struts. Coil springs over shock absorbers.

Solid rear axle with trailing arms. Coil springs and shock absorbers.

Unassisted rack & pinion.

Length - 3.86m
Width - 1.59m
Boot - 450 litres.
Behind front seats - 240 litres (min).

A MK2 Ford Fiesta (preferably XR2) supplies virtually all of the mechanical and interior components required. Additional requirements are certain lights, soft-top and carpet set.