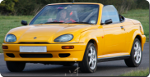 Launched in June 1997, the Quantum H4 is a unique two door 2+2 open top sports car equipped with a removable targa roof panel and drop down glass heated rear screen. It has two front seats
and a rear bench type seat with room for two children. These design pre-dates the current range of coupè/convertibles, which was made popular by the 206CC. Although the targa roof has to be manually removed, it has a huge advantage over the mainstream cars, as this targa panel takes up minimal boot space and still leaves the boot easy to access. The rear screen is on gas rams, which means the car can be driven with the rear screen up or down, which is useful if you get caught with the roof down in a heavy downpour.
Its design differs somewhat from earlier Quantum models in that it uses a powder coated steel chassis, which is enclosed by a fibreglass shell. The body styling is somewhat more rounded and "softer" than the Coupe and 2+2 models. All the various options of Ford engine and gearbox components bolt directly to the steel chassis. The bodyshell/chassis assembly is extremely strong and due to its construction provides excellent crash protection.
The Quantum H4 has been carefully designed to utilise as many parts as possible from just one donor vehicle - the Mk3/Mk3.5 Ford Fiesta, hence the choice of "standard" power plant can range from the smallest CVH through the Zetec and even the RS Turbo.
Chassis
Purpose designed, tubular steel 2-pack coated as standard. Integral to the shell - most parts are fully encased in GRP when the body shell and floor pan are sandwiched around it.

Bodyshell
GRP in self pigmented gelcoat finish (paint also available). Fully surface polished. All panels fitted and aligned, including heated rear screen ready mounted. Front and rear detachable bumpers.

Engine
Popular options include 1400i CHV 8v, 1600 CHV 8v, 1600i CHV 8v, 1600i Zetec 16v, 1600i turbo CHV 8v, 1800i Zetec 16v and 2000i Zetec 16v

Transmission
Front wheel drive. 5 speed manual, usually Ford IB5. CTX automatic available with some engine options.

Rear Suspension
H-beam solid rear axle with trailing arms. Coil springs over shock adsorbers.

Steering
Unassisted rack and pinion, or power assisted.

Dimensions
Length - 3.99m Width - 1.63m

Luggage
Boot - 300 litres (with roof panel stowed). Behind front seats - 160 litres (min).

Donors
Any model of Mk3 Fiesta (1989 - 1995), eg, XR2i, RS1800, RS Turbo