Hi All.
Sorry for the delay in getting you the new pictures of the new QUANTUM XT.
Mark certainly has been busy with the team to get the new XT ready, the updated model has improved a beloved vehicle by many members who already have such a great looking and enjoyable British sportscar.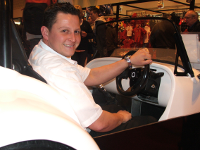 Mark has been listening to many of the members on how to improve the Xtreme and has now has put his own stamp on it. There will be three possible models the xt250 350 and 450 which relates to close on the brake horse power.
The one at the Autosport show was an XT350 with Omex power and supercharger. The body work has been gently remoulded.The rear tub has now increased the boot size, all the edges have now got a smooth radius  and new lighting. Dash now has a subtle aray of smaller instruments and an adjustable reach and rake steering column. A new adjustable pedal box is on the way with an access panel in the bulkhead, further design tweaks in the bulkhead will accommodate standard engines with no modifications to the inlets. The front nose has been re moulded and from what i could see will aid air flow.
Mark is now able to provide the components above to retro fit to any Xtreme and has a new deal on wheels and tyres from Wolfrace and Falken.
Mark has a new design for the logo and corporate image so all in all is committed to taking the XT to new markets. If the Show was anything to go by interest in the new model was very promising with lots of new leads.
I have asked Mark if he can supply a new XT for display on the club stand at Stoneleigh for our 21st Birthday celebrations so i will confirm this close to the date as he is intending to bring two models to the show.
So as we move forward with our new Quantum owners i look forward to giving them the support that we can and wish both companies every success for the future.
Andy H
{webgallery}
{/webgallery}