Due to circumstances beyond the control of the Quantum Owners Club and Grosvenor Shows we will not be on out usual stand at the National Kit Car Motor Show 2019. Our stand has/will be consumed by part of the HS2 train line, stand 35 RIP.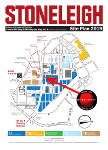 Our new location is on stand 51W, which is a prime location between Hall 1 and the Grand Ring. The committee plan to run our stand as usual, therefore you can expect a marquee with seating and tables, free refreshments for members and their families, the club shop and the QOC BBQ after the AGM on the Sunday evening.
The AGM will be held on stand 51W in the marquee from 4pm on Sunday 5th May and usually runs for about an hour. This is the main chance for you to have your say on how the club is run and to help with running the club be standing as a committee member. Committee members will be available on stand 51W throughout the extended weekend, as a number will arrive on Saturday 4th May to prepare our stand. Members are welcome to join us from approximately midday on the Saturday and we believe camping is still allowed at this new location. We look forward to being joined by plenty of members throughout the weekend.
To see our new exciting location click on the thumbnail image for a larger map.