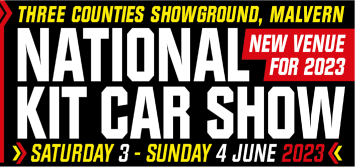 Formally known simply as 'Stoneleigh' this show has relocated for 2023 and take place over a different weekend.
The new venue is the beautiful setting of the Three Counties Showground, just outside Malvern. Those who have been in the kit car scene for many years may remember this venue has hosted previous kit car shows.
Taking place on Saturday 03 and Sunday 04 June 2023, this is an exciting event and the show organisers have been working with kit car clubs to ensure it is a great weekend.
The Quantum Owners Club has been allocated a generous stand, so the club look forward to seeing a lot of member to support the event.
We have been provided with two maps. Firstly the overal site plan and then importantly the club plan, so you can find the QOC stand.
Camping on stands is being discouraged, therefore we will request that members use the dedicated camping area. We have been informed that a QOC area within the camping area should be available.
The QOC will be providing shelter and seating for members and visitors, plus the club AGM will take place at this show. FUrther information will be added as it becomes available.